UMA Lab Principal Investigator
Sharda Umanath is an assistant professor of psychology at Claremont McKenna College and the director of CMC's Memory and Aging Lab (UMA Lab). She earned her Ph.D. in cognitive psychology from Duke University and did her postdoctoral work at Washington University in St. Louis. Her research focuses on how knowledge works in memory and explores related issues involving cognitive aging, autobiographical memory, collective memory, false memories, and education. She fell in love with the field of memory as an undergraduate at Washington University in St. Louis through her philosophy-neuroscience-psychology major. Outside the lab and classroom, she spends her time painting, reading sci-fi/fantasy, traveling, and climbing at Joshua Tree National Park.
Ryan Burnell is a graduate student at the University of Waikato in New Zealand, working with Maryanne Garry. He will be visiting the UMA Lab for the Fall 2019 semester. He is interested in the different ways that people's memories serve functions—in other words, the ways in which people's memories can have helpful and harmful effects on their identity, behavior, and relationships. To what extent do people's memories for important historical events serve similar functions to their memories of personal experiences? To what extent do negative memories serve different functions to positive memories? And what beliefs do people hold about the effects negative experiences have on others. By answering these questions, we will be better able to understand how both individuals and groups are affected by their past experiences
Kevin Choi is a junior psychology and economics major from South Korea. He is fascinated by the mechanisms of memory formation and retrieval and how easily memory can be altered and manipulated. After his time at CMC, Kevin hopes to pursue a career in behavioral science and eventually attend graduate school for psychology. Outside the lab, Kevin enjoys traveling with friends, destressing at Roberts Pavilion, and walking around aimlessly.
Dana Harris, a sophomore from Manila, Philippines, is majoring in computer science. She was already interested in memory upon entering college. Taking Cognitive Psychology fueled her interest in studying memory further—particularly the reconstructive nature of memory. After college, she plans to delve into software engineering and IT consulting. Outside of the classroom, Dana enjoys rock climbing, and can often be found sitting on park benches writing poetry. She also loves to create obscurely specific playlists on Spotify, traveling around the world, and eating cookies.
Megan Itagaki, originally from Honolulu, Hawai`i, is a sophomore majoring in psychology at Scripps College. Her interest in psychology began when she took AP Psych, and she recently became interested in cognitive psychology and memory through her Introduction to Cognitive Science course at Pomona College. She is especially intrigued by the constructive nature of memory, false memories, and how people's memories changes over the course of their lives. Outside of the classroom, Megan can be found in the dance studio with the 5C Dance Company, exploring Little, or FaceTiming her family and dog. After graduation, Megan hopes to continue her education in psychology in graduate school.
Jessica Selig is a senior from McLean, Virginia, dual majoring in psychology and economics. Taking Sharda Umanath's "Autobiographical Memory" course really sparked her interest in memory and her desire to delve deeper into memory research by working in the lab. She is fascinated by the fallible nature of memory, how memory is reconstructed, and the ways that memory changes across the lifespan. After her time at CMC, Jessica hopes to go to graduate school for neuro- or behavioral economics. Outside of the lab, Jessica tutors at a local elementary school, runs, hikes, and explores nearby beaches and the city of L.A.
Isabel Streiffer is a junior at Scripps College from San Francisco, California, majoring in Spanish, Latin American, and Caribbean literatures and cultures and minoring in psychology. After taking Cognitive Psychology with Professor Umanath, she became interested in why people forget certain details while remembering others, and how these individual memories form collective memories that differ between groups and create cultural narratives. After graduating, Isabel plans on working in Buenos Aires for a few years before moving back to the Bay Area to pursue her master's degree, possibly in public health, social work, or counseling psychology. Outside of the lab, Isabel enjoys playing and watching soccer, writing and crafting, and exploring cities.
Sarah Tritschler is a senior psychology major from Los Altos, California. After taking Sharda Umanath's Autobiographical Memory course, she became strongly interested in the field of memory and how it changes as we age, as well as the way in which our minds can manipulate our memory of events. After graduation from CMC, she hopes to work for a few years and possibly return to graduate school. Outside of the classroom, Sarah is one of the captains of the CMS women's volleyball team, Director of Social Media for the College Programming Board (CPB), and an avid dog lover.
Maddie Valdez is a junior at CMC from Ontario, California, majoring in neuroscience with a focus in cognition. She is especially interested in how an individual's memory changes over time and how memory influences one's decision making process. After graduating CMC, Maddie plans on continuing her education and research in cognitive neuroscience in a postgraduate program. When not in the lab or classroom, Maddie is either playing for the CMS softball team, hiking all the nearby trails, or spending some quality time with her family and friends.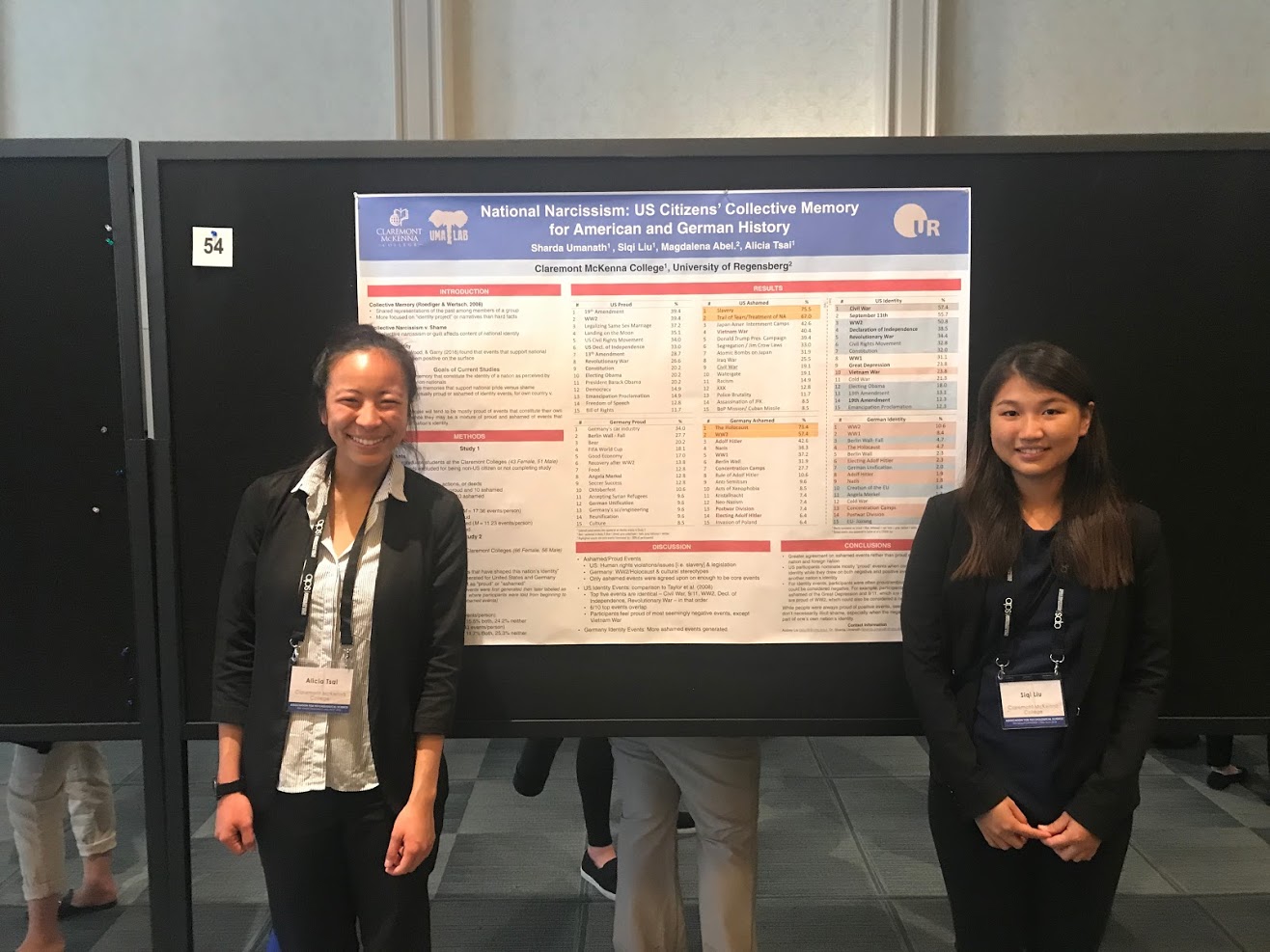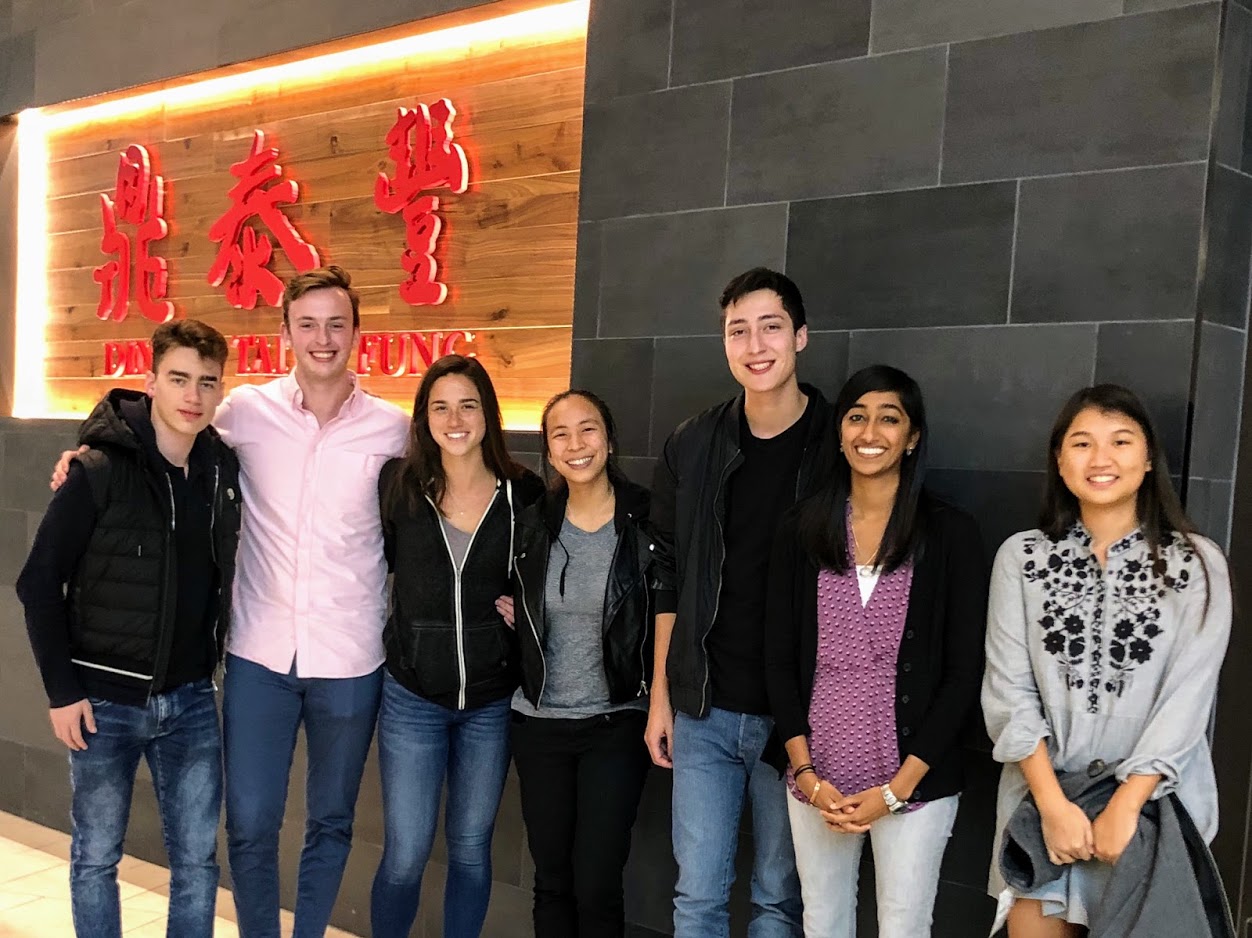 Lab Alumni
Juan (Johnny) Castillo graduated as a dual major in neuroscience and psychology. He is now a Post-Baccalaureate Intramural Research Training Award fellow at the National Institutes of Health, conducting research with Dr. Elliot Stein on addiction as a structural abnormality in the brain.
Lauren Clubb graduated as a biochemistry major. She is now a Post-Baccalaureate Intramural Research Training Award fellow at the National Institutes of Health, studying new targets for cancer immunotherapy, working with Dr. Paul Love.
Allie Crum
Grant Gilchrist graduated as an economics major. He is now a knowledge analyst at Russell Reynolds Associates in Boston, Massachusetts, working with a team of executive recruitment professionals to research market trends and identify top-tier talent.
LinkedIn →
Audrey Liu graduated as a psychology major with a literature minor. She is now a graduate student in the Cognitive Neuroscience Admitting Program at Duke University.
Francois Ries has completed his time at CMC, majoring in economics and engineering. He is now completing a bachelor's of science at Columbia University in data analytics.
C.C. Schwab
Alicia Tsai graduated as a dual major in biology and psychology. She received the Davis Projects for Peace award and is now working on implementing her project at a group home in Pomona, creating and teaching a therapeutic photography program to the youth there.
Main Collaborators
Magdalena Abel, University of Regensburg
Dorthe Berntsen, University of Aarhus
Andrew C. Butler, Washington University in St. Louis
Jen Coane, Colby College
Samantha A. Deffler, York College of Pennsylvania
Maryanne Garry, University of Waikato
Mark J. Huff, University of Southern Mississippi
Elizabeth J. Marsh, Duke University
Mark A. McDaniel, Washington University in St. Louis
Henry L. Roediger III, Washington University in St. Louis
David C. Rubin, Duke University